–
The Blue Spruce Health team provide a level of service that is unprecedented in traditional medical care. This is because of his innovative direct primary care model. 
"I look forward to freedom of care; no intermediaries or administrators driving meaningless use criteria and metrics for oversight organizations with no medical experience. I love the idea of saving patient's money and delivering true care to anyone that steps into my office."- Dr. Malik
Blue Spruce Health departs from traditional insurance-based models of primary care and provides patients with more direct attention from their physician when they need it. Building a relationship with your doctor is nothing revolutionary; it's just the best path to better health.
By working directly with patients and cutting out the middleman, Blue Spruce Health is able to lower costs while simultaneously improving access to care by providing more time to patients and decreasing waiting times. This gives patients more one-on-one attention at affordable cash pricing.
Appointments last up to an hour, ample time to fully explain any health problems and receive the proper hands-on care. This ensures enough time to truly understand problems and explain treatments. The monthly membership provides access to the Blue Spruce medical team through telemedicine, secure text messaging, in-office visits, phone visits, and secure Telehealth visits so we can answer any questions or discuss immediate health concerns, avoiding unnecessary office visits. 
How is DPC different?
Healthcare does not have to be expensive, confusing, or frustrating
We have a plan that starts with you and a provider- nothing else, It's called Direct Primary Care!
With our plan, you have a direct relationship with our providers and neither of us has to spend any time worrying about insurance requirements or regulations.
As a member of Blue Spruce Health, you would get these benefits
Unlimited office visits for medical needs

Same-day access for urgent care

24/7 on-call access to a provider via text, phone, or email

No charges for procedures or services
 And all of that without co-pays or office visit charges.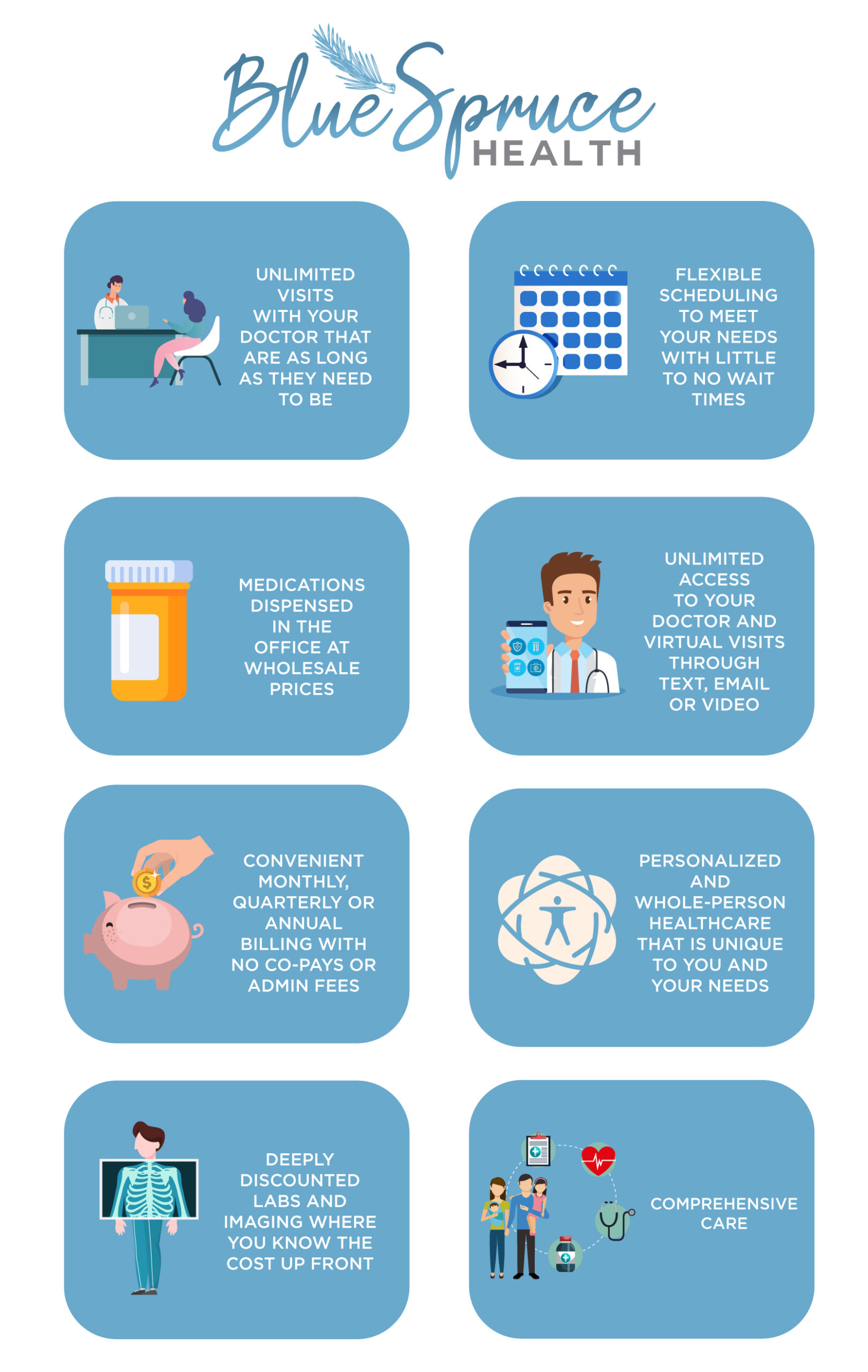 Open Hours
Monday- Friday:
8am-4:30pm
Saturday by appointment only
Sunday closed
(closed for lunch from 1pm-2pm)
*After hours by appointment only*
ADDRESS
Newport Office
401 E Main St.
Newport, VT 05855

**Opening Soon*St. Johnsbury Office
25 Depot Square
St. Johnsbury, VT 05819